Corfu or Kerkyra is a Greek island in the Ionian Sea.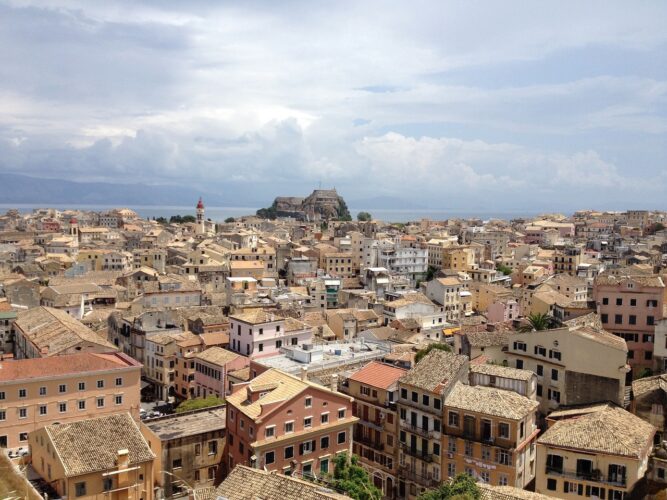 Corfu is a genuine Ionian princess, located at the northwest of Greece. When you visit it and discover its beauties – from the old town to the picturesque villages and the amazing beaches – you will understand why it is one of the most popular tourist destinations in Greece.
Old Town
Corfu's Old Town is definitely one of the most beautiful – if not the prettiest – of the Greek islands. UNESCO has declared it as a World Heritage Site. Sprawling colorful bougades, mansions, impressive arches and labyrinthine alleys hide within them the soul of this place. Your first stop will be in Liston to enjoy a coffee with the locals under the stone arches with the Venetian lanterns. Continue your walk to the largest square in the country, Spianada.
The forts of the city
Take time and see the two imposing fortresses of the city, the Old and the New, which are preserved in a very good condition. The Old Fort dominates the eastern side of the city, a fortified fortress, which on Venetian rule (15th century) was transformed for defense reasons from a peninsula to an islet with the construction of a moat. You will find it at the edge of Spianada, a few minutes from Liston.
Pontikonisi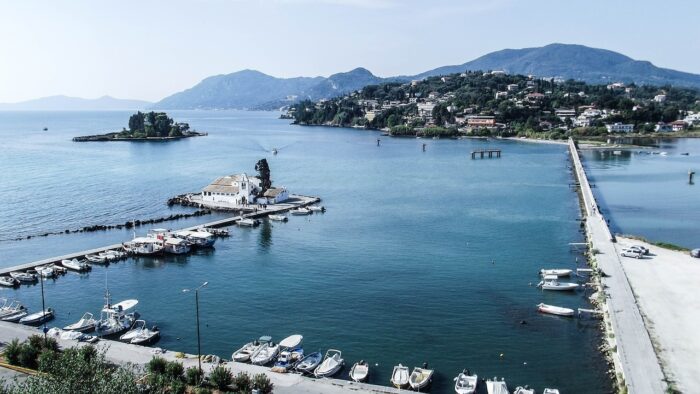 It is undoubtedly one of the most famous sights of Corfu. The Greeks spontaneously think of the song "Corfu, Corfu with the Pontikonisi…", and foreigners definitely have heard or seen it in various pictures. To reach it, you have to head to Garitsa and after a scenic route you will reach Kanoni. This is exactly where Pontikonisi is located, the small green islet in front of Corfu airport by the waterway, in the bay of Halkiopoulos.
Achilleion
Just outside the city of Corfu, in the village of Gastouri, time seems to have stopped. Specifically, at a distance of 10 km southwest of the city, you will see a prestigious prestigious palace, which continues to unabashedly admire the visitor. Achilles was a resort of two forms of European history, the only public among them was their worship to Corfu, Greece and its culture.
Paleokastritsa
Impressive landscape and one of the most popular beaches of the island, in the northwest part of Corfu, 23 km from the city center. Famous for its very cold and crystal clear waters, the wider area includes 6 bays and beaches. The most famous is the one below the monastery of Paleokastritsa and it gathers most of the tourist infrastructure with hotels and restaurants. The rest will only arrive by sea.
Hope you will enjoy your stay in Corfu island!