A FEW WORDS ABOUT THE ISLAND
Beautiful beaches, imposing green mountains and unique ecosystems "endow" the land of Skopelos with impressive landscapes that, combined with the mild climate, make the island an ideal holiday destination.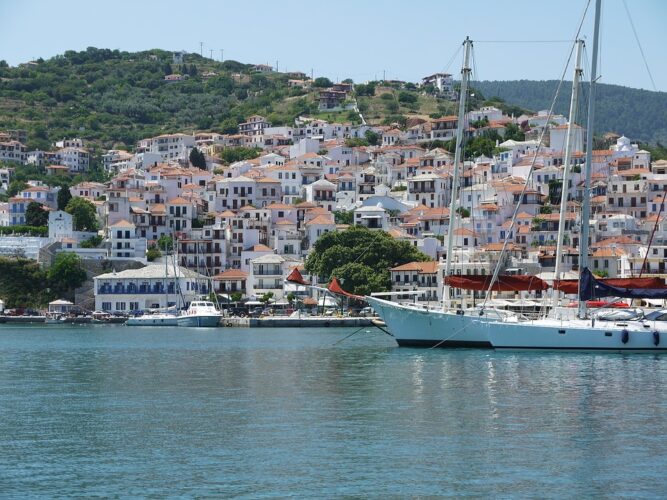 With thick forests covering almost 80% of its area, it is considered to be the greenest island of the Aegean, with good tourist infrastructure, but also with its traditional character. It is located in the Northern Sporades, northwest Aegean, north of Evia and east of Pelion.
The town of Skopelos, on the north side of the island, is a traditional island town with typical architecture and beautiful cobblestone streets, which has been declared a traditional settlement. Chora and the whole island are full of old traditional churches, chapels and monasteries. Climb to Panagitsa of Pyrgos, at the edge of the harbor in the castle and admire the wonderful churches, the picturesque streets, the steep cliffs and the view of the vast Aegean Sea.
Glossa is one of the three villages on the island, with the largest population, also known as the "tall village". It is built amphitheatrically on a hill with houses of Macedonian architecture and magnificent sea views. It is of great archaeological interest since in many places there are ancient towers and buildings from antiquity.
Finally, the picturesque Agnontas in the south of the island, Panormos, Stafylos and Loutraki, the second largest port of Skopelos, with great tourist development, are the most crowded resorts on the island.
BEACHES
What characterizes the famous coasts of Skopelos is their unique diversity (long beaches, small bays and coves, sandy or pebble beaches, coastal caves with steep rocks, coastal wetlands), their purity and the clarity of the waters, which have made them world-famous and therefore extremely popular and beloved.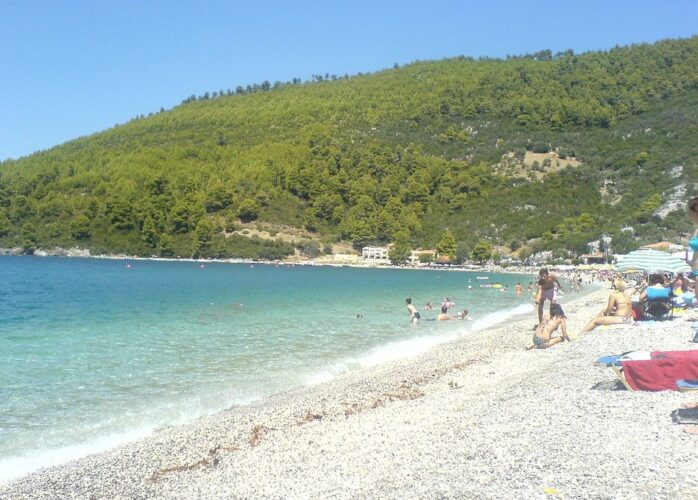 The small beach of Limnonari with its crystal clear waters and white sand, the beautiful, small pebbled beach of Agnontas, 7 km from the town of Skopelos, the secluded beach of Panormos, as well as Milia, Kastani and Stafylos in the south And the impressive Hovolos with the green-blue waters, are just some of the choices you have.
WHERE YOU CAN STAY IN THE ISLAND
We recommend: Adrina Resort & Spa (http://www.adrinaresort.com), for guests with high demands, "Selinounda" (http://www.hotelselenunda.com), in Loutraki, Skopelos Village (http: /www.skopelosvillagehotel.com). Milia Appartments and Panormos beach hotel, in Panormos, (http://www.panormos-beach.com/) are also good choices.